Antietam Classic Cycle | home
"Building the Perfect Beast"
Maybe not everyone's "perfect beast", but hopefully mine. While I loved the engine of my MZ Saxon Country, the chassis was a big let-down off-road - just not enough suspension travel and way too stiff. I rode my brother's Aprilia Pegaso quite a bit too and it's fantastic on the highway and backroads, but is a bit heavy/bulky for forest roads and other unpaved areas. Not thrilled with having a water-cooled engine either. I'm hoping to achieve a nice compromise of street and off-pavement abilities.
Starting with a nice low-mileage Rotax 504 engine from my friend Joseph's MZ Saxon Tour ...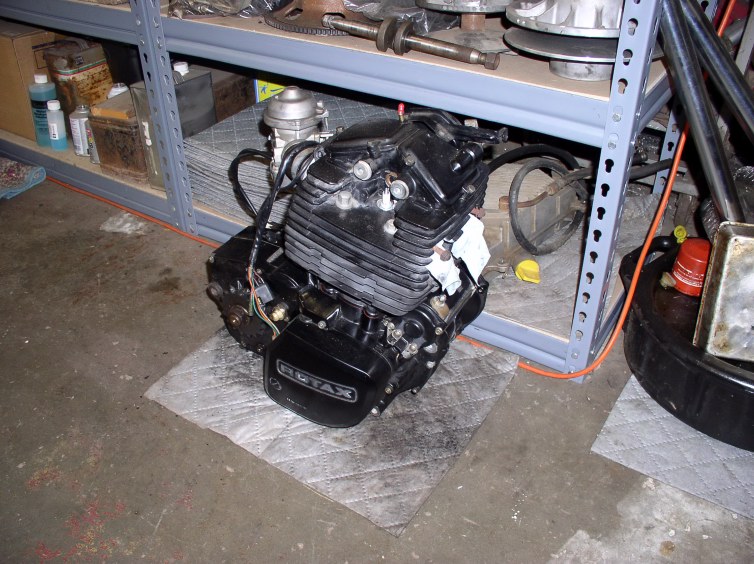 ...and a bunch of parts I bought from a guy in Florida...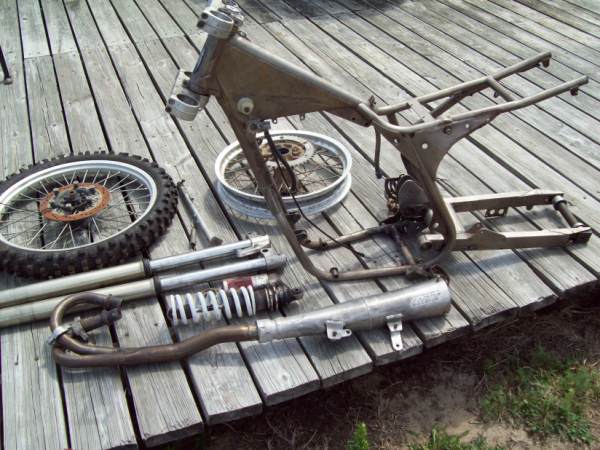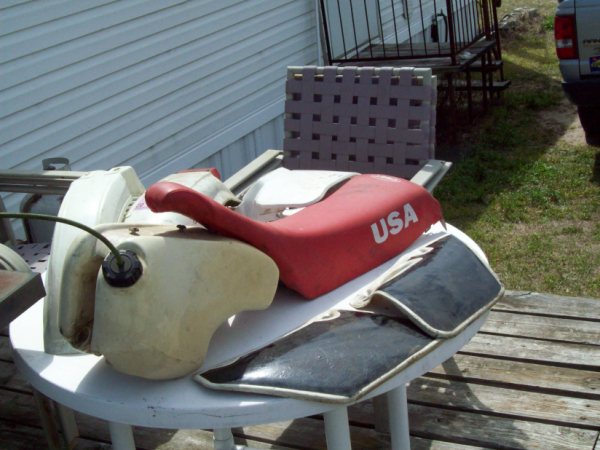 ... the plan is to resurrect a '91 ATK 604. Yes, I know - what about the KTM 504 chassis I had planned to use earlier? Well, I looked at the amount of work that needed and all of the other projects I had stacking up and decided that if I wanted to finish before I was too old to ride, then the ATK would be the way to go.


This chassis has several key advantages:
1. I won't have to restore every single piece of it, most of it is suitable as-is
2. more modern, so easier to find parts for
3. the engine fits without any modifications

There's a lot more I like about it:
1. it's just weird/exotic enough - rear brake is on the engine's countershaft not the rear wheel and it has Horst Leitner's chain torque elimination system (two idler sprockets attached above and below the swingarm).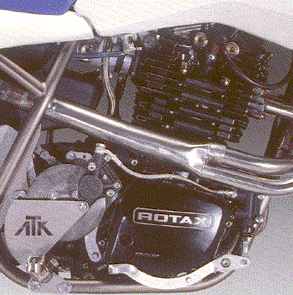 2. the chassis is constructed from chromoly steel tubing and then nickel-plated
3. bodywork is all Italian Acerbis
4. White Power suspension and Nordisk wheels are shared with KTMs of the same vintage
5. straight back stainless steel exhaust with tunable Supertrapp muffler



What the completed bike will look like (sort of):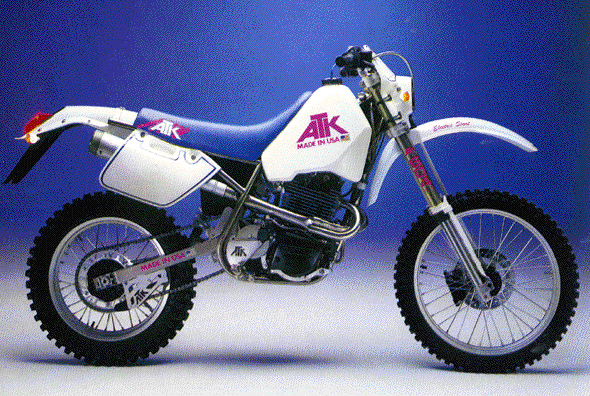 "Sort of" because it will need to be lowered a bit in order for me to climb aboard and some of the colors might be different.
The parts I bought include a tiny MX tank that only holds 2.2 gallons and that's just not enough for some of my off-road adventures. So, I've already bought a new-old-stock DS tank like on the bike above. That holds 4.6 gallons and should give me a usable range of at least 200 miles. The seat is peculiar to each tank as well, so I've bought a good used DS seat too. There's a bunch more bits to buy (handlebars, clutch lever, decompression lever, switch gear, speedometer, etc.) but I'll slowly chip away at the list until everything is collected.
Right now I'm in a "holding pattern" on the project - the chassis is still in Florida. A very helpful gentleman by the name of Dan Raidt (Thanks Dan!!!) helped me purchase the parts and will be bringing them up to NC the end of June 2010. I'll be heading down to pick them up and then the fun begins!
July 25th - Picked up the chassis bits last month and inventoried everything to see what I need. I'm still collecting parts at this point and have bought a few of the cheaper ones that I need. Did "splurge" a bit and grabbed a Corbin seat ($20!) and Dellorto PHBE38 carburetor ($10!) too.
November 2010 - This is going like the old country song "One Piece At A Time". :-) Bought a countershaft sprocket and a pair of handlebars. Chipping away at my list of needs...
Sometime in 2011 - Can't remember when exactly as time just flies by and I wonder where it went. Cleaned and polished the frame, cleaned the engine and checked it over. Combined the two and started fitting some of the engine electrics and a few other bits. Been buying some new hardware and bearings (steering head, swingarm, wheels).