Antietam Classic Cycle | home
Moto Guzzi Falcone
Here's the finished '67 (though titled as a '68) Guzzi Falcone NT (Nuovo Turismo). This came to me in rather shabby condition - rusted rims, spokes and exhaust, dull (but overall still good) paint, top-end disassembled, a gearbox that wouldn't shift and many more minor issues. She's a fine runner now.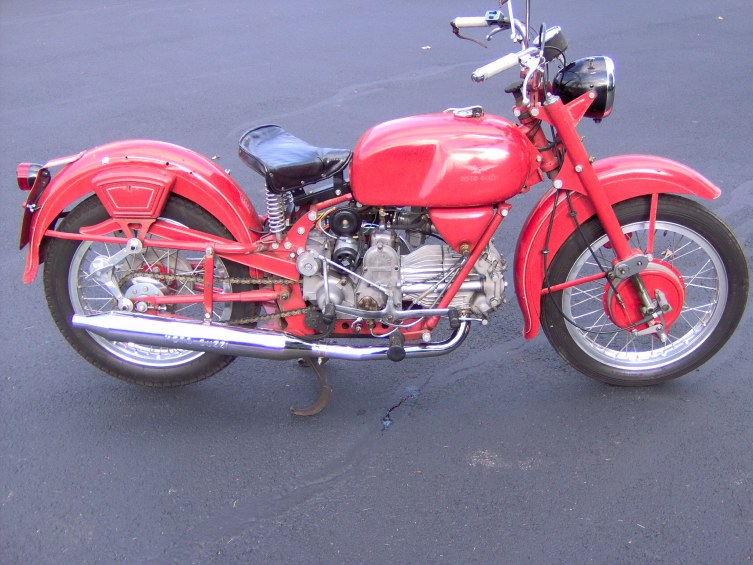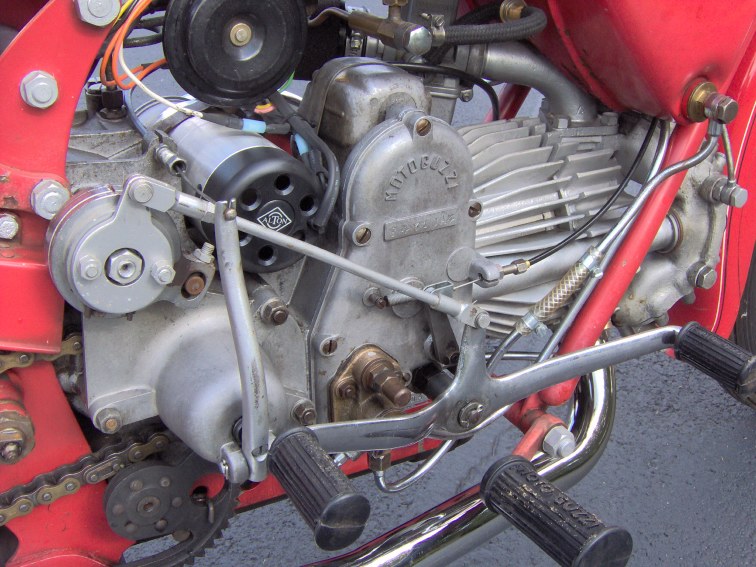 Above: The new Alton 12 volt alternator in place. Works quite well - a worthwhile addition for safety in the daytime and adequate lighting at night. Also note the fuel crossover tube has been reversed so that the outlet is on the right. This makes room for the air filter mounted on an Ambassador "velocity stack" on the left as shown below. No worries about sucking bugs into the engine now! :-) I also switched the carburetor from the original SS1 to a VHB from an Ambassador. All modifications can be easily reversed if needed.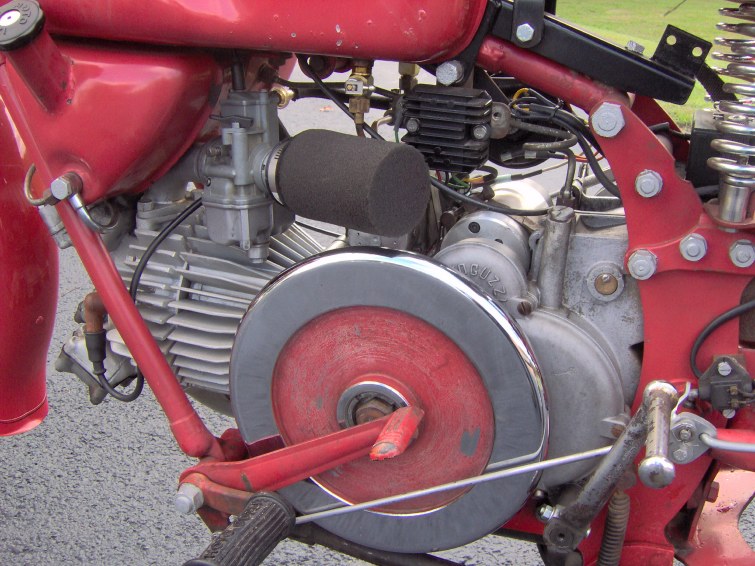 Moto Guzzi Ambassador
One of my personal bikes, "Sophia", a '72 Ambassador. Started out as a rolling basket case and two years later she was completed. Sold Sept. '08.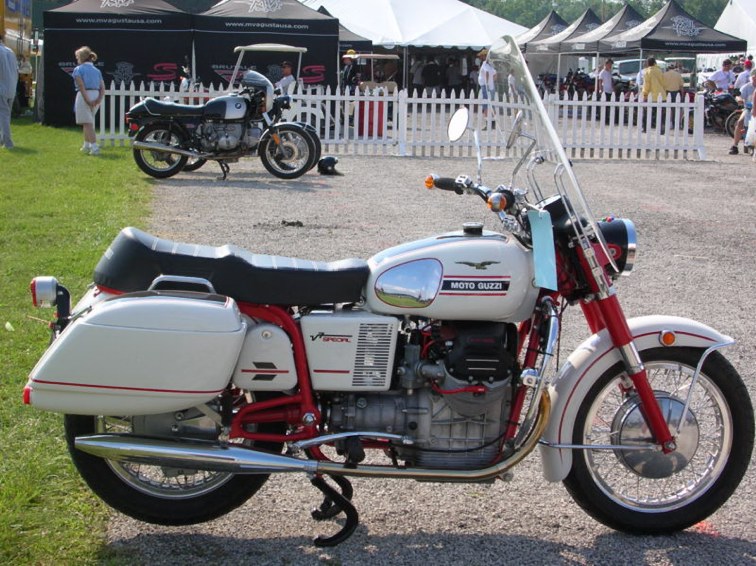 Latest photo with new-old-stock chrome fenders and a Stucchi solo seat installed: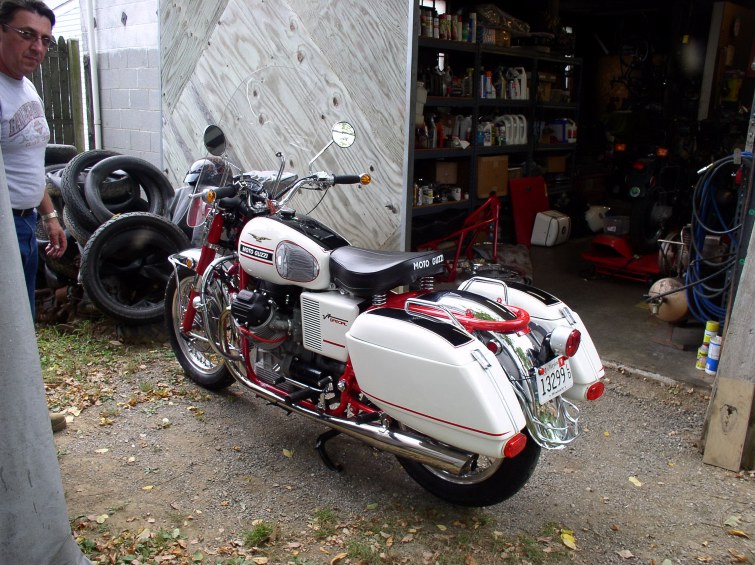 Moto Guzzi Eldorado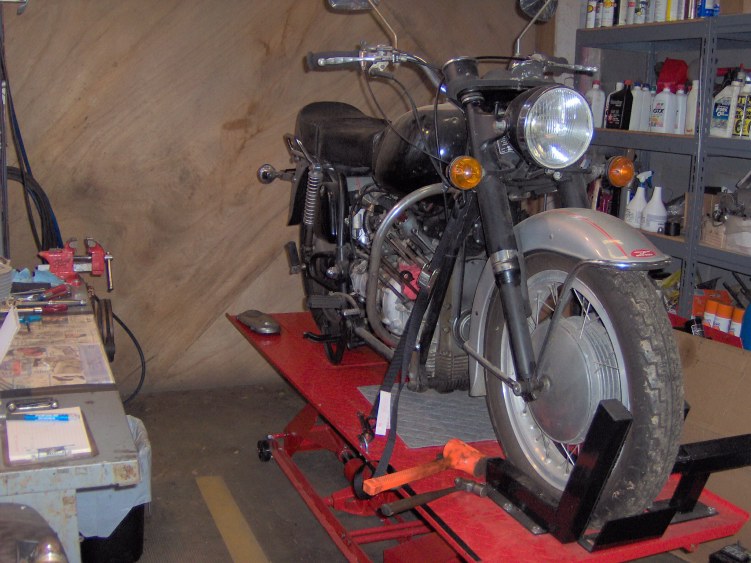 '72 Eldorado that was in for a top-end rebuild. Original cylinders were flaking chrome and several rings were busted. Could be why it was blowing oil... Owner decided to go "big-bore" so I installed Gilardoni 88mm cylinder kits and 850T3 rockers.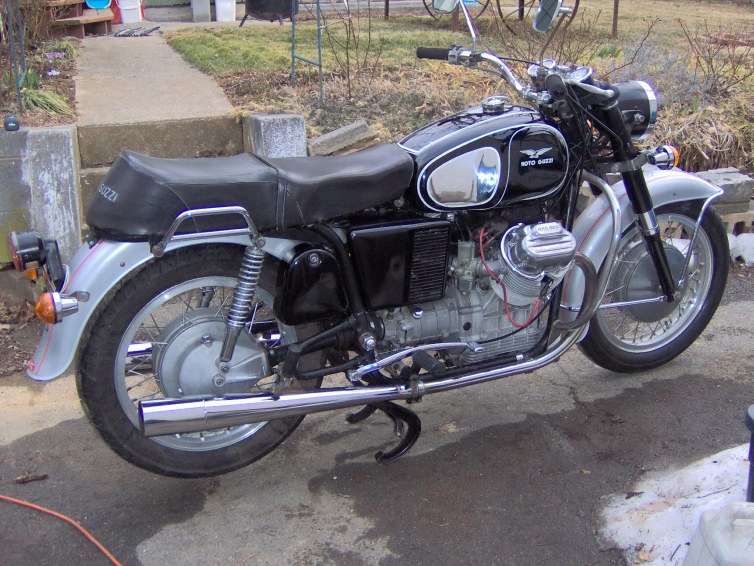 After the top-end rebuild was completed, leaky fuel tank replaced with a "loaner" of mine, front and rear brakes serviced and adjusted. It looked a bit rough still, so I spent two non-billed hours cleaning it up. Looks pretty sweet now and runs very strong.
Moto Guzzi California II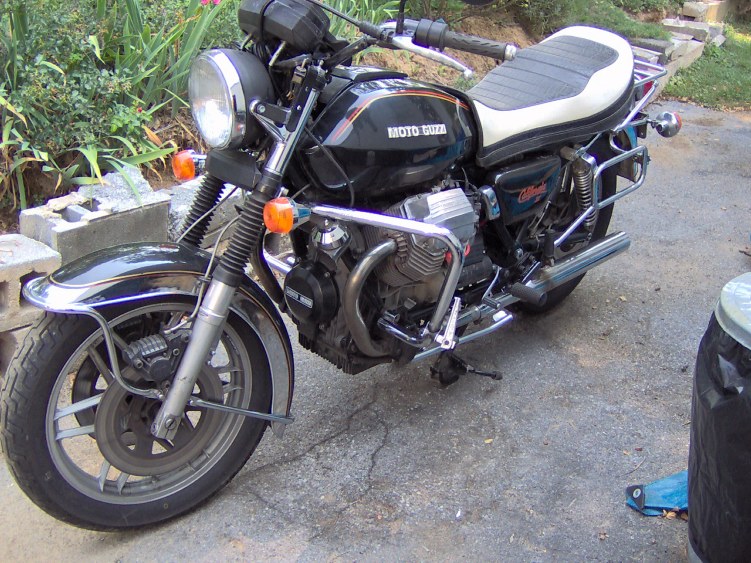 This '85 Cal II was actually in twice - the first time back in the winter for some carburetor work after a long hibernation, then later in '07 for a timing chain, retrofitting of the stock ignition (to replace a failed electronic unit) and a change from footboards to footpegs and modified levers.
Moto Guzzi 1000SP NT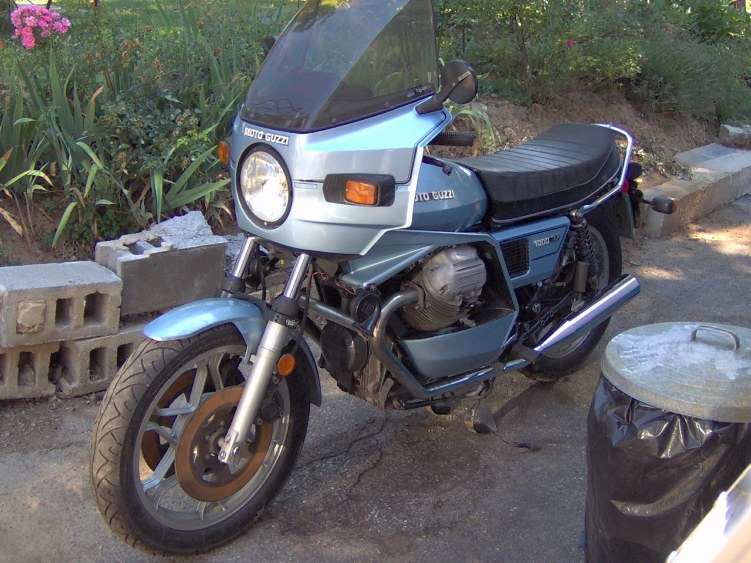 This nice '83 SP had a cylinder base gasket leak and some minor electrical issues. It had also been sitting for a while, but cleaned up very nicely.
Moto Guzzi Ambassador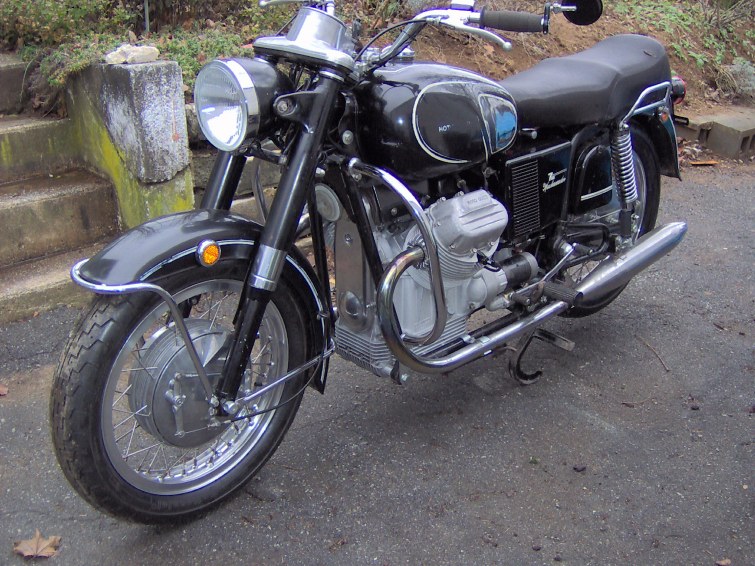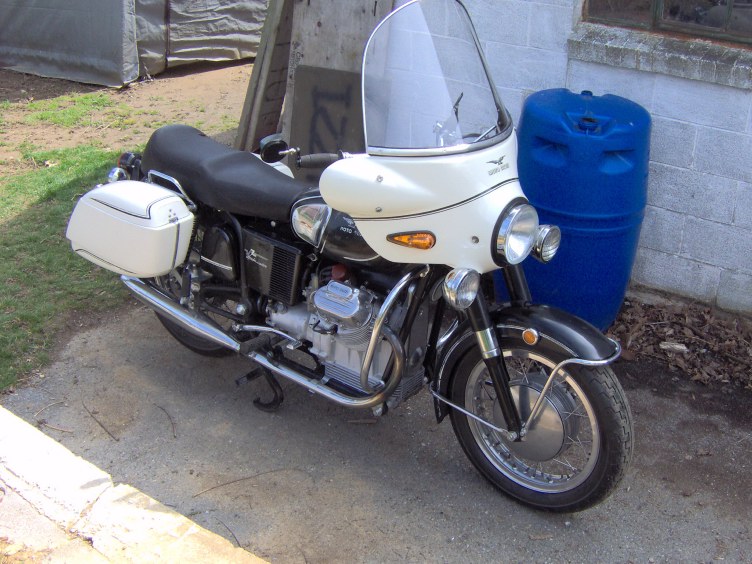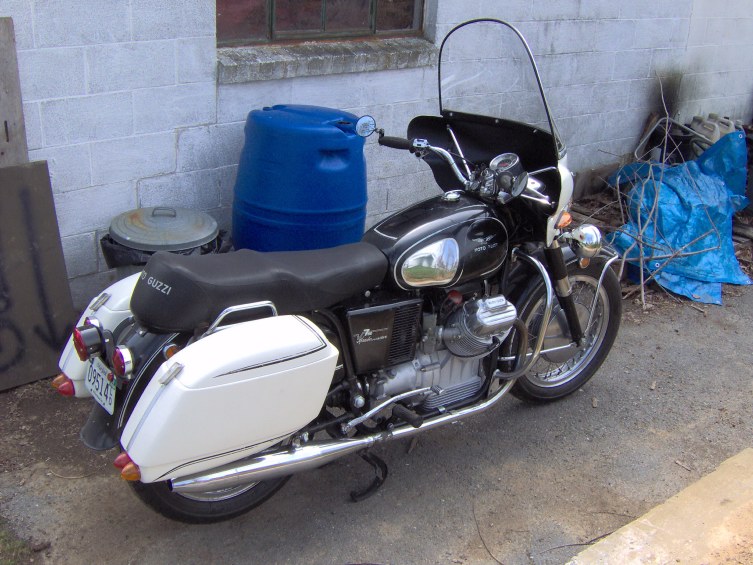 Added Wixom saddlebags, Guzzi "polizia" fairing and auxiliary lighting. It's turned out to be a great machine for touring. Sold in Sept. '08.
Honda CB350F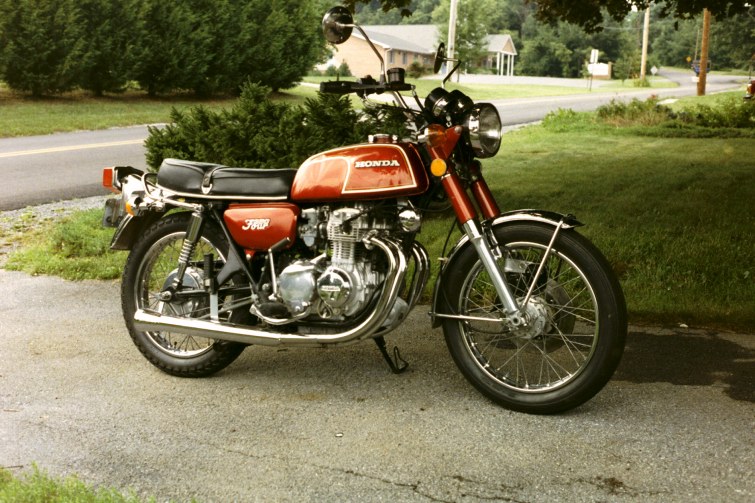 I saved this little beauty from a long painful death. My brother-in-law had bought it then let it set out under a plastic tarp to rust away. Even though I had no desire to keep it and knew I'd lose money on it, I bought it from him and set about cleaning it up and making it roadworthy again. It really was quite nice to start with and all of the original paint and chrome cleaned up well. Not counting my time, I just about broke even on it.
Moto Guzzi Convert Engine Conversion
This started life as a '78 I-Convert (949cc) powerplant, but has been converted for use in an Eldorado. A nice easy way to gain performance (more displacement) and durability (oil filter equipped). Changes include the front timing cover from an Eldorado, a crankshaft adapter, holes drilled and tapped for the generator mounting bracket and the distributor drive gear swapped. I also reassembled and "freshened" the top-end. Ready to go back into the frame...
Moto Guzzi Eldorado
Another Eldorado project, this one a lightly customized '73 with four-leading-shoe front brake. Needed a lot of small issues corrected, but now it's a great running and rather unique Guzzi.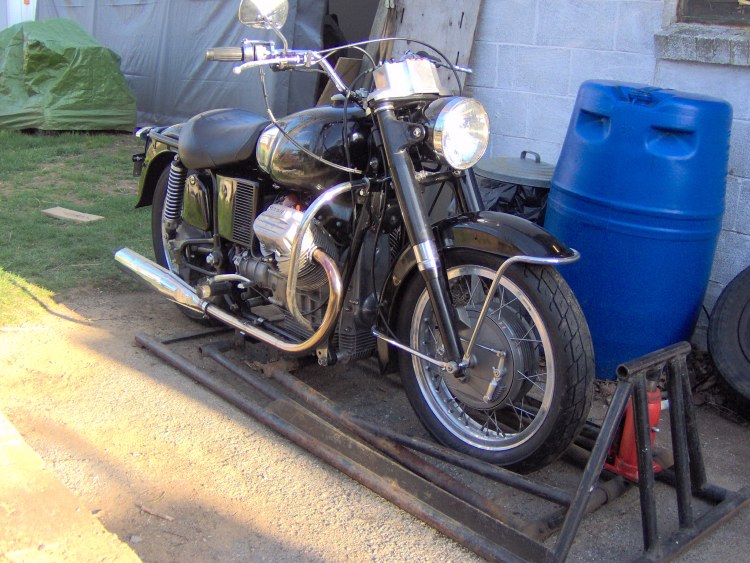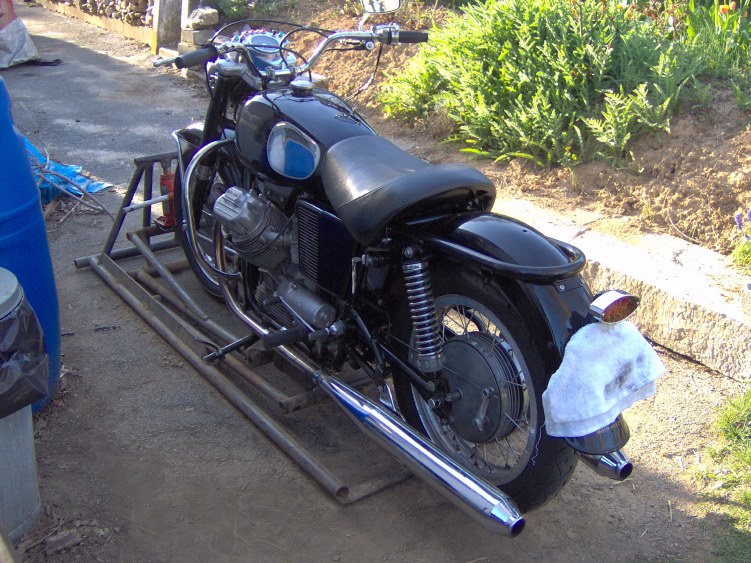 '69 BMW R50US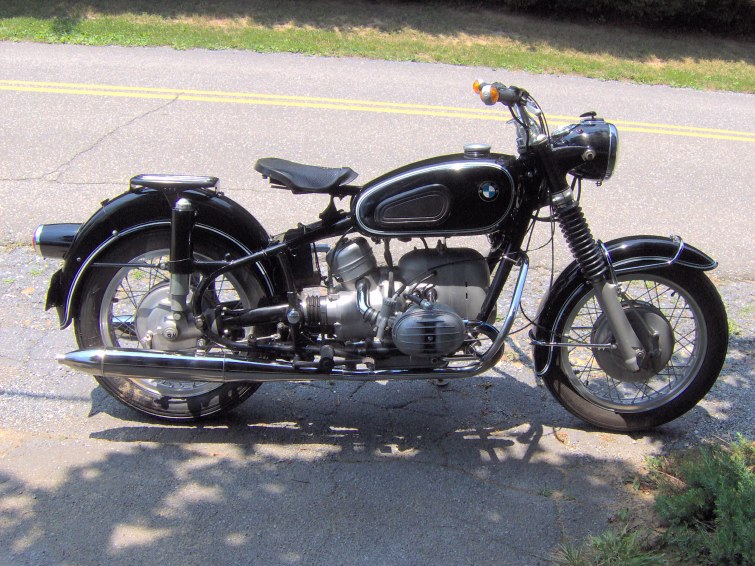 Very nice original bike that just needed a little detailing and maintenance done. The owner sold it before I could finish!
BMW /2 Conversion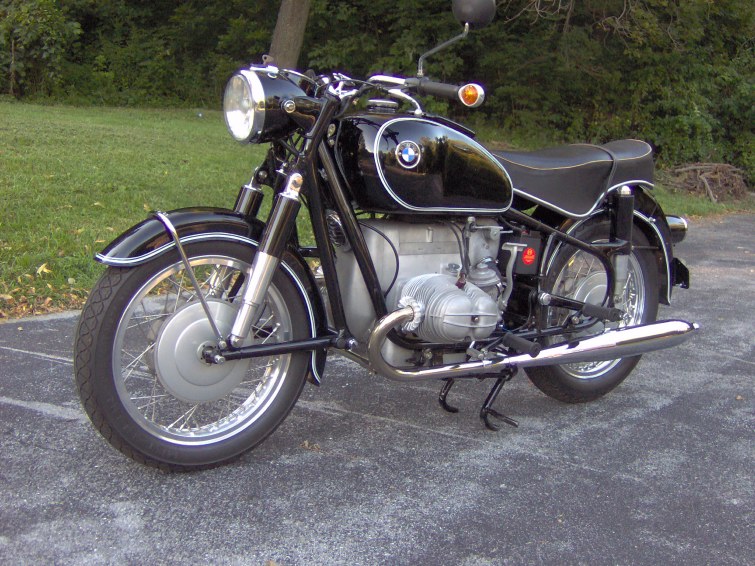 /2 chassis, '74 R75/6 engine, /5 transmission and electrics, reproduction R69S mufflers with modified /6 stainless steel headpipes. Really a sweet running bike that is a pleasure to ride!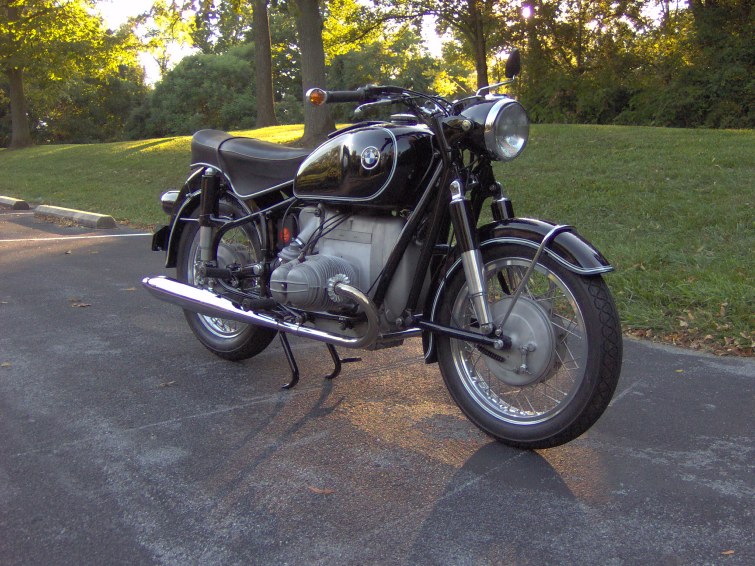 Moto Guzzi Monza
Before: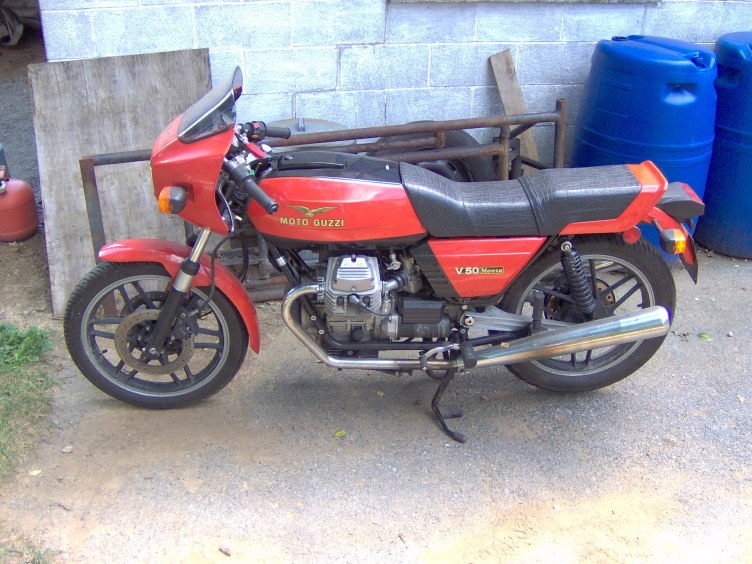 After: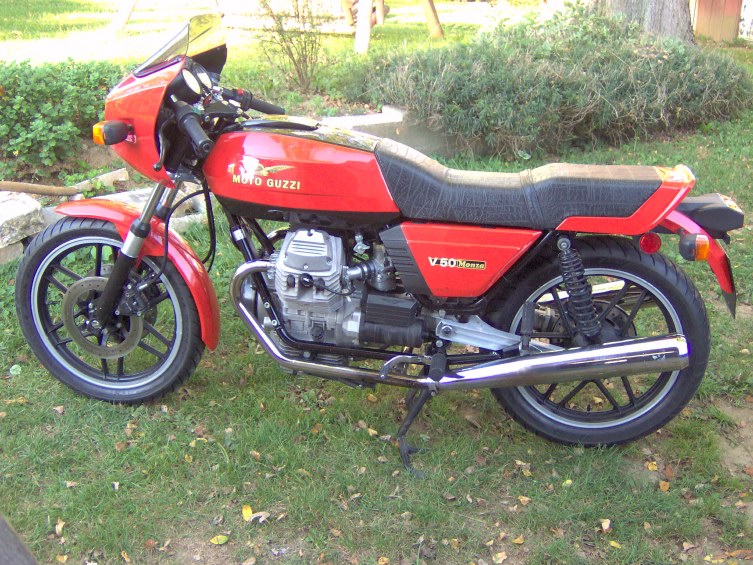 Photos don't show the true difference, but it's definitely noticeable in real life. Didn't want to give this one back to it's owner! A very fun small Guzzi.
Moto Guzzi Eldorado Engine
Completely rebuilt and upgraded this '73 Eldorado engine. It wasn't in too bad of condition other than abnormal wear of the oil pump, lifters, rockers and the usual chrome flaking from the cylinder bores. Finding a rag wrapped around the oil pickup screen is never a good omen though...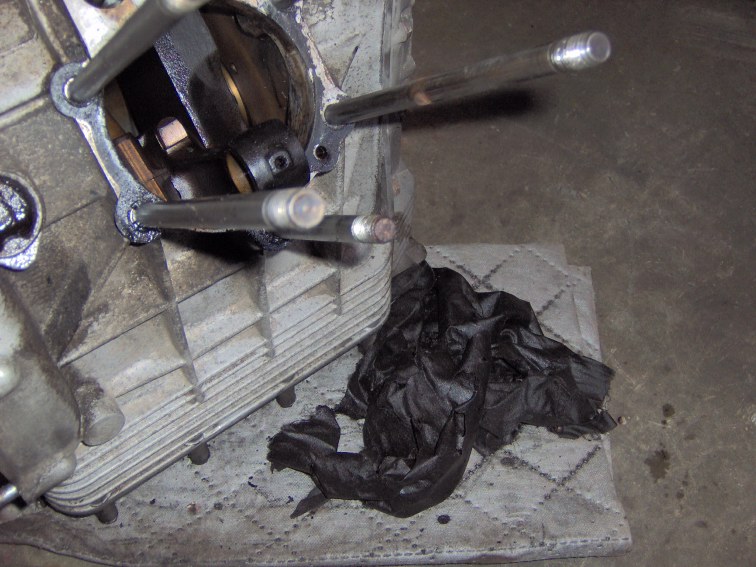 Done: reground crankshaft rod journals, 88mm Gilardoni "big bore" cylinder kits, 850T3 rocker arms. The engine case was drilled for a later oil filter equipped sump as well.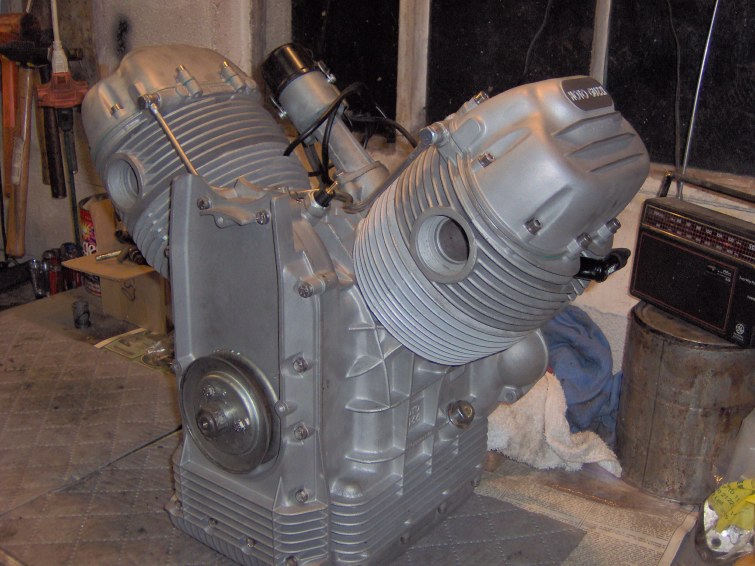 '72 Moto Guzzi Ambassador
Stored for the last twenty-seven years, so it needed plenty of TLC. Looked worse than it actually was though. Inside is a heart of gold...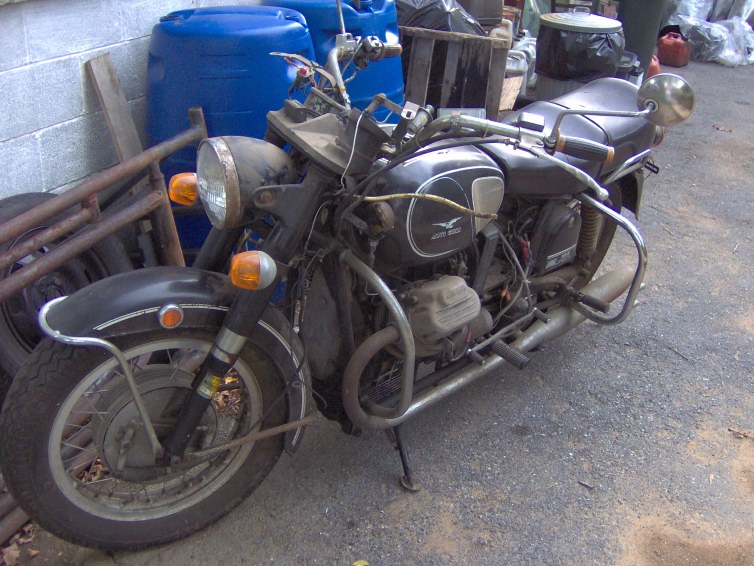 First test ride after a total teardown and rebuild. All original paint preserved and much of the original chrome as well. A lot of time invested, but it's well worth it in my opinion.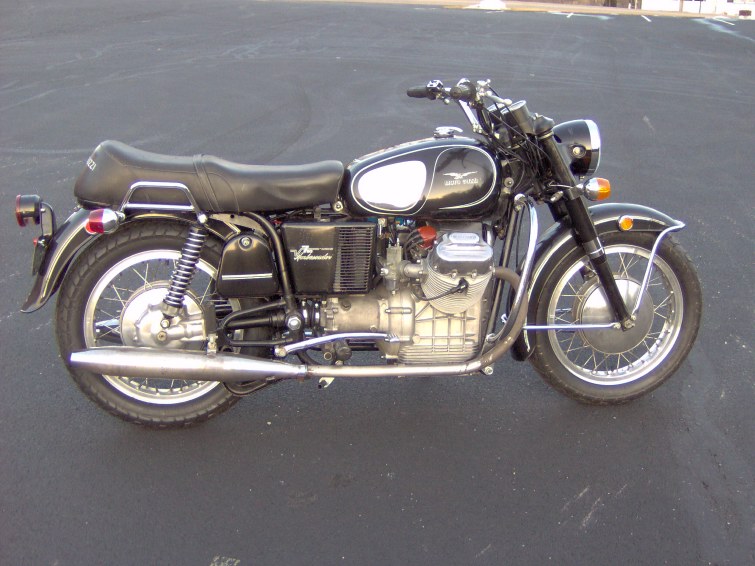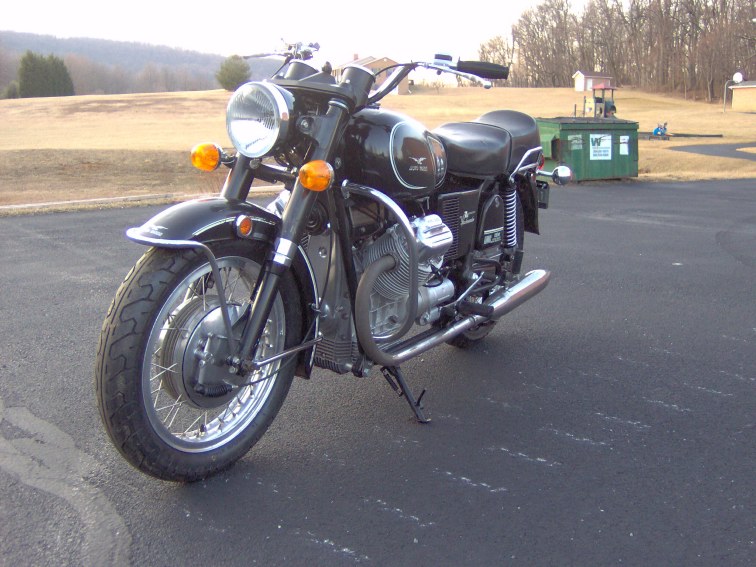 Ready to go home with it's happy owner: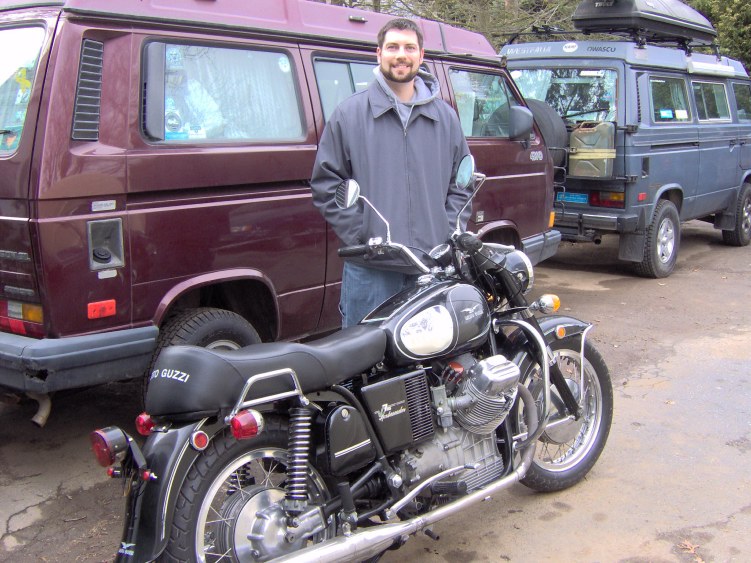 Moto Guzzi Galletto 160 engine
Before: Burned valves and eroded seats, incorrectly assembled rocker assemblies, rocker tips badly worn due to missing lash caps, worn cam follower shafts, broken off cylinder stud, dried out and leaking seals.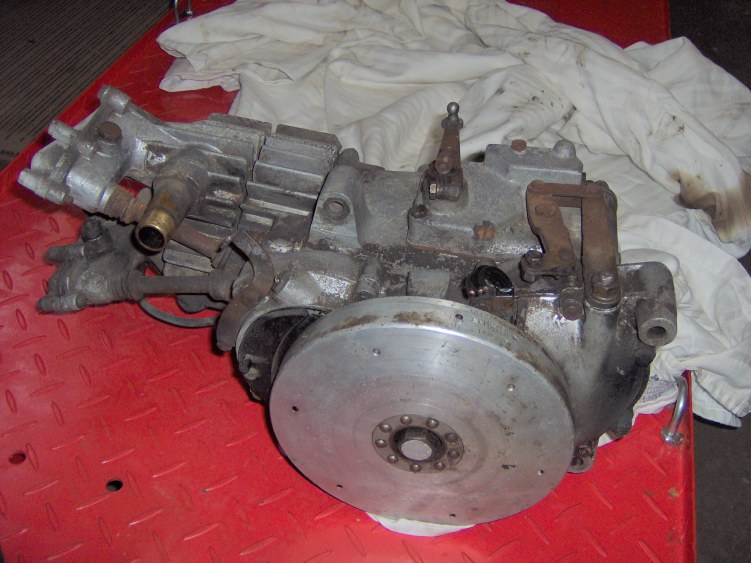 After: It's a shame such a neat little engine will be totally hidden under bodywork.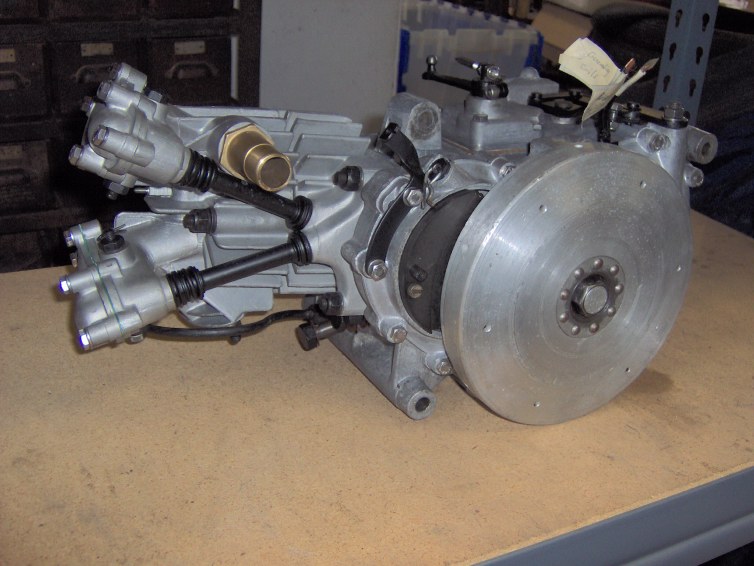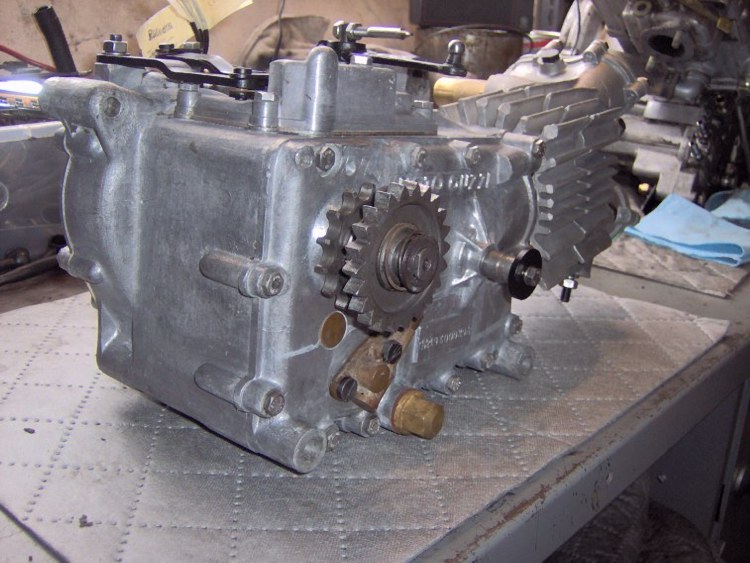 '75 Norton Commando
Freshening finished, tank and sidecovers repainted, this lovely old machine returned to it's owner recently.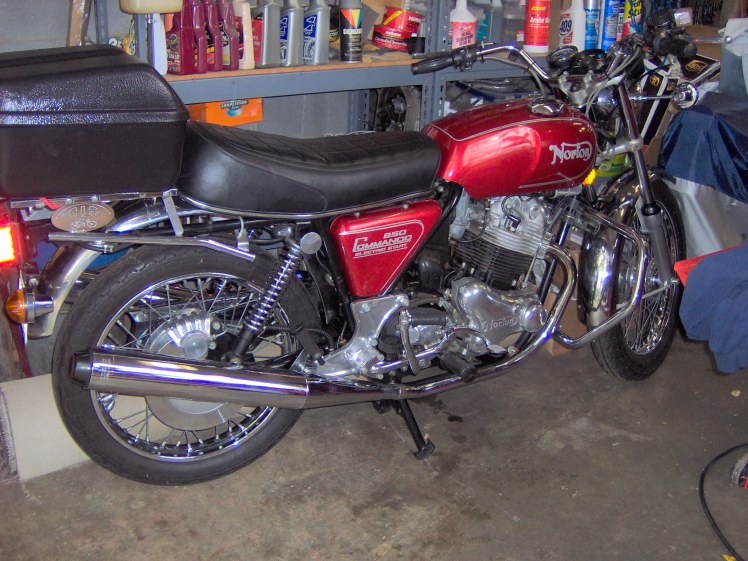 '72 Moto Guzzi Ambassador
In for transmission repairs and a major freshening. Overall a solid, mostly unmolested example of Guzzi's finest. BMW /2 taillight and Harley signals on a custom mount at the rear are kind of funky/cool.
Before: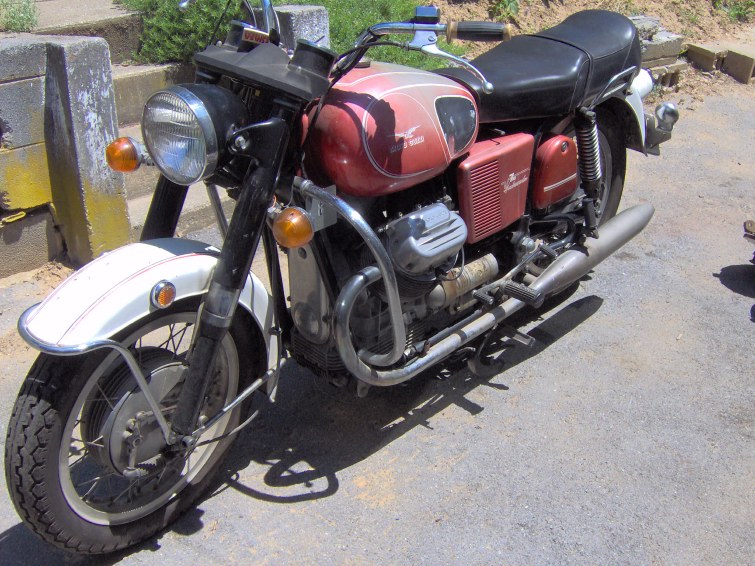 After: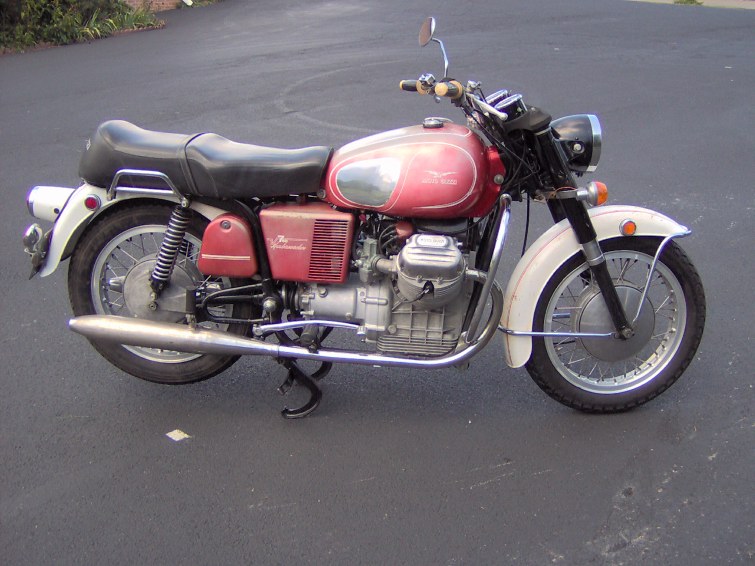 Lots of work done: transmission rebuilt, rear drive reshimmed and resealed by Charley Cole of Zydeco Racing, complete tune-up, new air filter, breather hoses, clutch, flywheel side of engine resealed, rear frame loop repainted to original black, thorough cleaning.
'81 BMW R80 G/S
Before: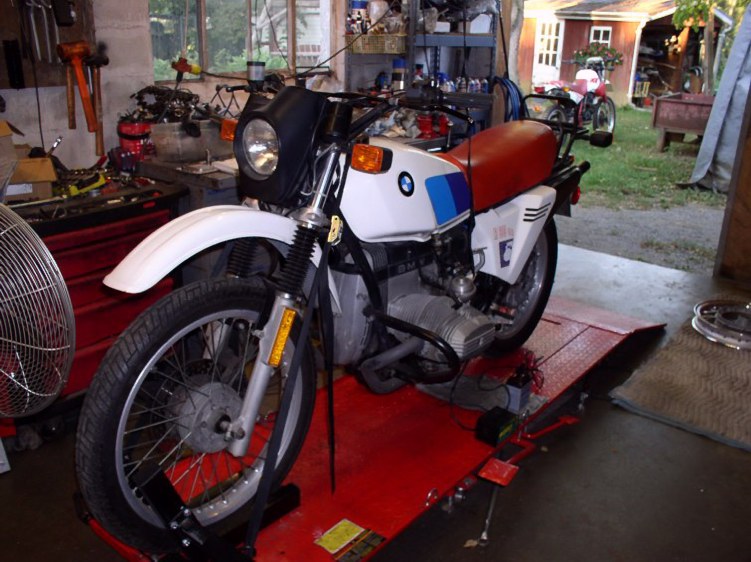 A thorough cleaning and detailing along with a little tuning, fresh tires and new stainless steel headpipes has resulted in a sweet looking vintage G/S ready for the road once again: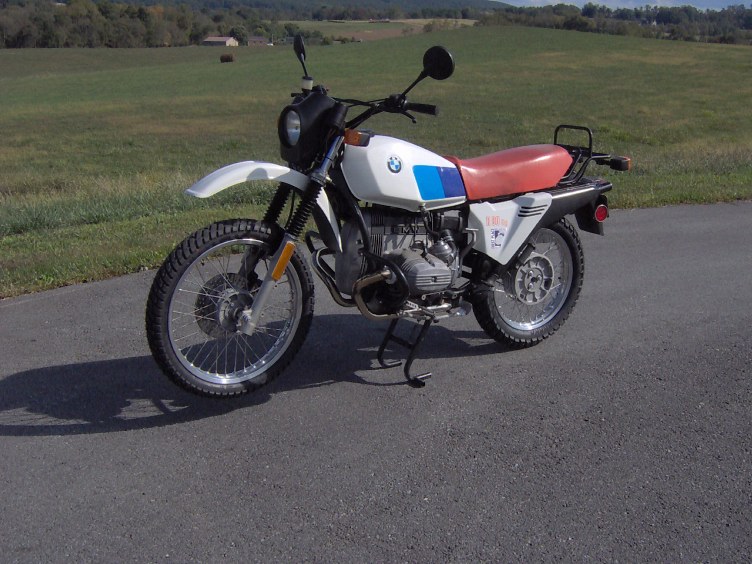 With the addition of a Parabellum windscreen: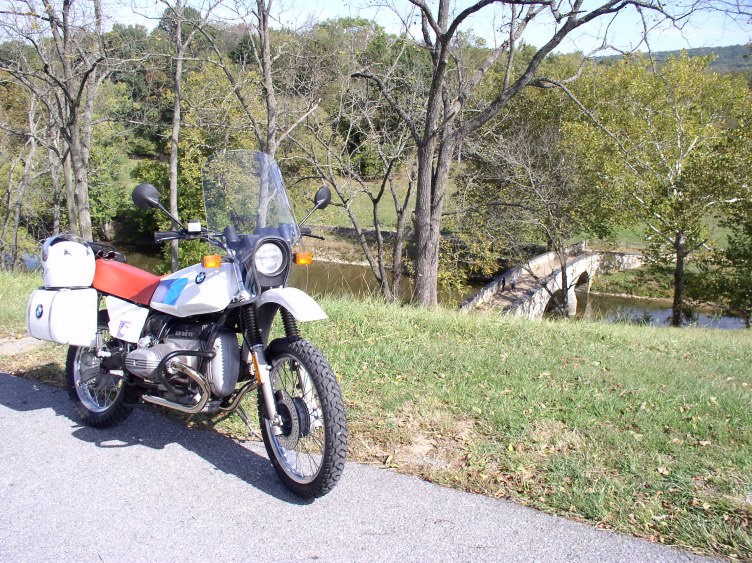 '77 Yamaha XT500
Since I sold the MZ Saxon Country back in the Spring, I've been without a "dual-sport" of my own. So, when this XT500 became available locally in Oct. '09, I bought it for $400. Only 660 original miles, but unfortunately doesn't look it. New tires, chain, carb. kit, battery, grips and some other misc. pieces and it's back on the road.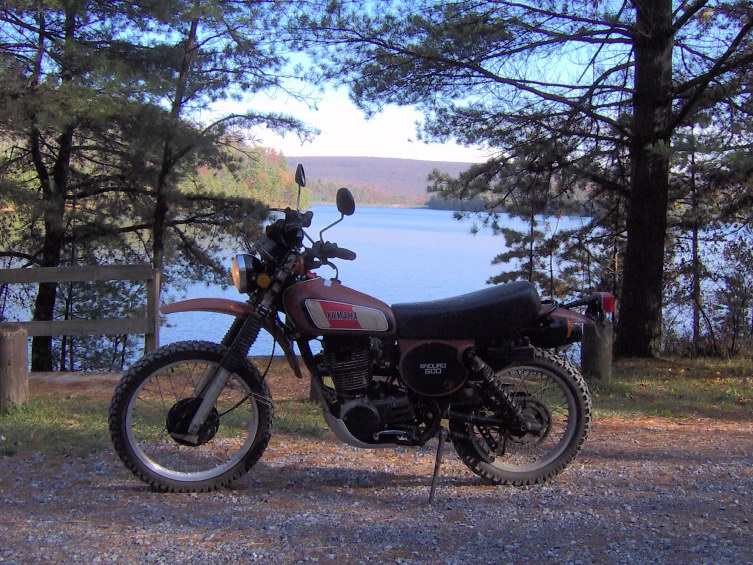 '75 Honda Z50
This came to me as a basketcase and I was going to just part it out and sell the bits on eBay. But, I'm too much of a softy for lost causes, so decided to reassemble it and hopefully make some kid happy with a new ride. Found a bunch of new parts had already been purchased, I added about $150 more and made a nice running and fun little machine out of it. A bit homely in the looks department, but a kid is bound to drop it and scrape it up anyway, so why make it pretty? Sold to a friend with a 6 yr. old - hope the kid enjoys it!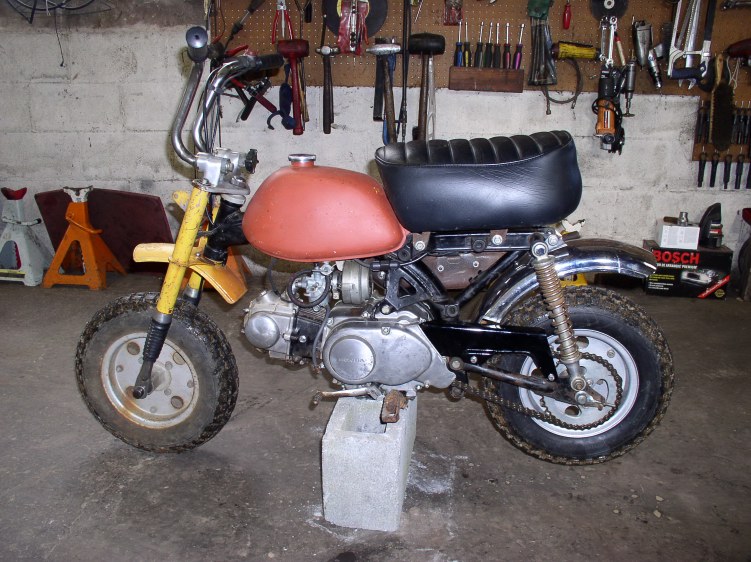 '74 Moto Guzzi Eldorado
Came in to have a persistent oil leak fixed, alternator kit installed and second front disc brake and caliper added. The oil leak was found to be caused by a hairline fracture of the engine case, so a good used case was substituted for the original. The crank was worn and needed to be ground undersized and new bearings fitted also. Turned into a total rebuild of the engine minus the cylinders assemblies which were already Gilardoni and the heads which had been rebuilt 10k miles previous. The second disc makes stops more reassuring and the Field/Nolan alternator kit supplies enough power for extra lights and heated clothing with plenty to spare. One of the perks of my job is getting to test ride sweet bikes like this!
At Antietam Battlefield: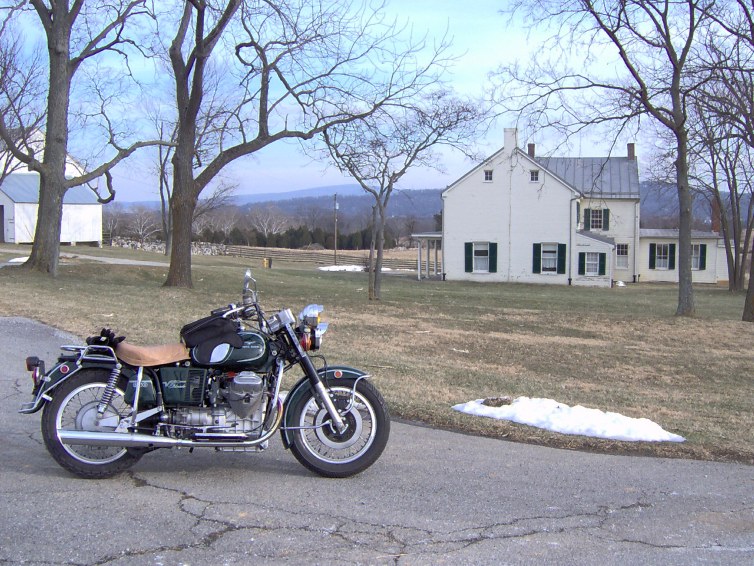 '74 Moto Guzzi Eldorado engine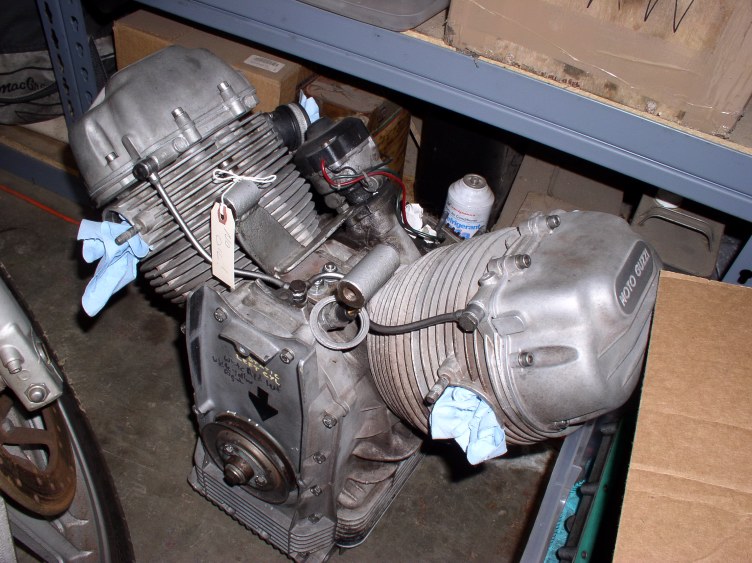 Needed new rings, a timing cover seal replaced and a broken off generator bracket stud removed. Ready to go back in the bike and start terrorizing the cabbies of NYC once again. :-)
'78 Honda XL125
Bought this from a friend with the sole purpose of fixing it up to sell. Turned out very nice and found a home with an appreciative new owner.
'71 Moto Guzzi Ambassador
Really nice Ambo that came in for a top-end rebuild (new Gilardoni cylinder kits, new valves and guides), fuel tank swap and seat recovering.
'97 KTM 620 RXCe
Yes, a little outside of my usual scope of expertise, but I'm really into dual-sport bikes right now and this is the latest purchase of a good customer and riding buddy. Just needed a thorough cleaning, lots of TLC, some fresh tires and grips. One of the few bikes that I've been a bit apprehensive to test ride - it's quite a beast!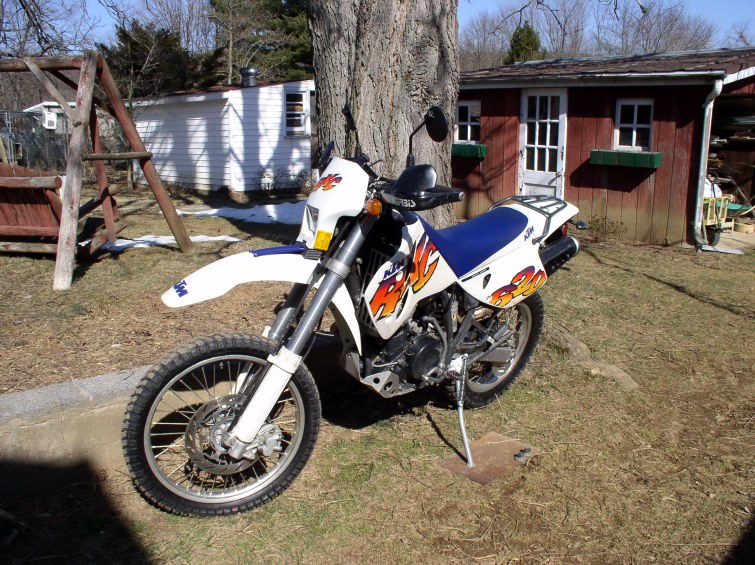 '82 Moto Guzzi V50III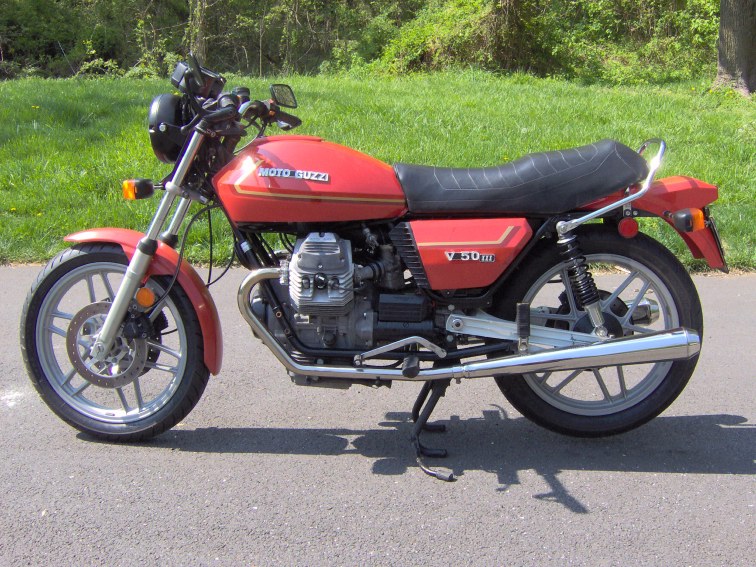 Freshened up this nice little Guzzi for the original owner. Lots of new rubber parts including the airbox boot. Stainless steel exhaust from Keihan Systems, Ikon shocks and Odyssey battery were but a few of the parts. A very sweet running and easy handling bike!
'81 Moto Guzzi 1000SP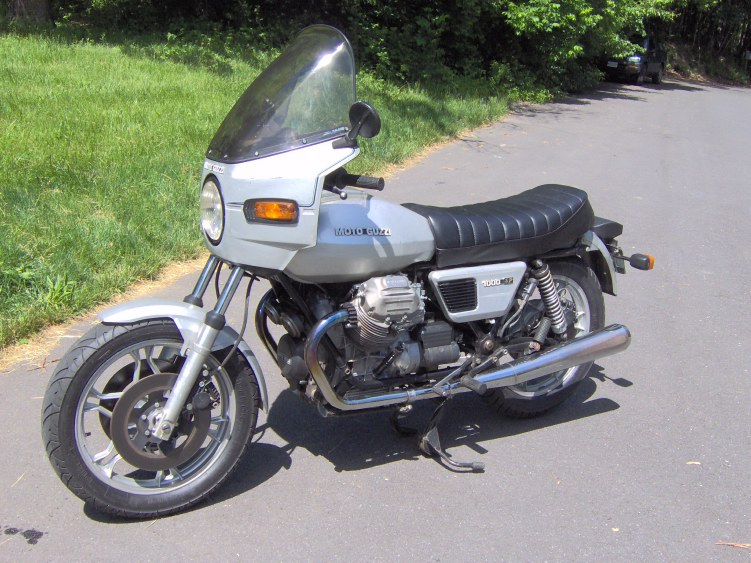 This nice SP was originally sold in Italy and was privately imported to the US. Needed just about every rubber part on it replaced and lots of minor repairs and overdue maintenance done.
'74 Moto Guzzi 850 Eldorado "civilian"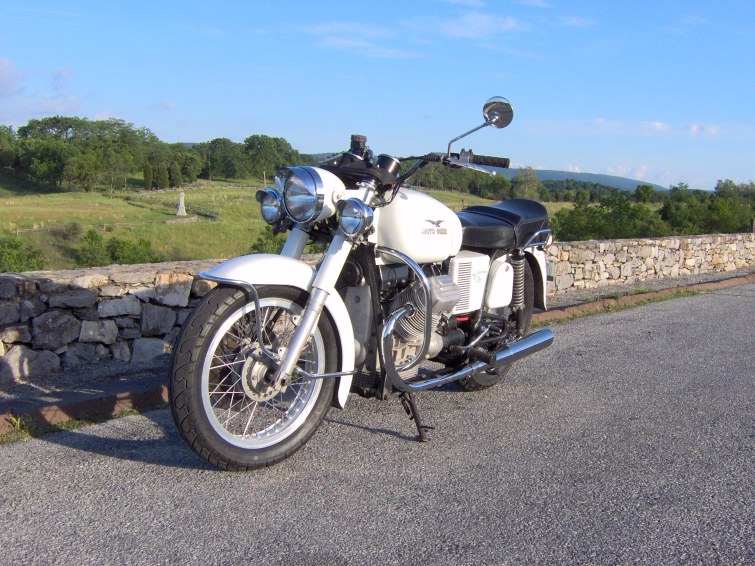 This is one of the less common Loopframe variations - most '74s were built to "police" spec. with pull-back handlebars, floorboards, solo seat, "Wurlitzer" police dash, etc. This one has lower bars, pegs, double instrument dash and dual-seat. A lot of work went into this one, but it turned out very nice. Very strong running with a throaty rumble from the Mac mufflers!
'74 Moto Guzzi Eldorado
This is a mid-'73 production Eldo with Amal carburetors and the four-leading-shoe front brake. Came in to have the Harley signals replaced with the original style, some other wiring work and carburetors refitted with chokes.
'72 Moto Guzzi 750 Ambassador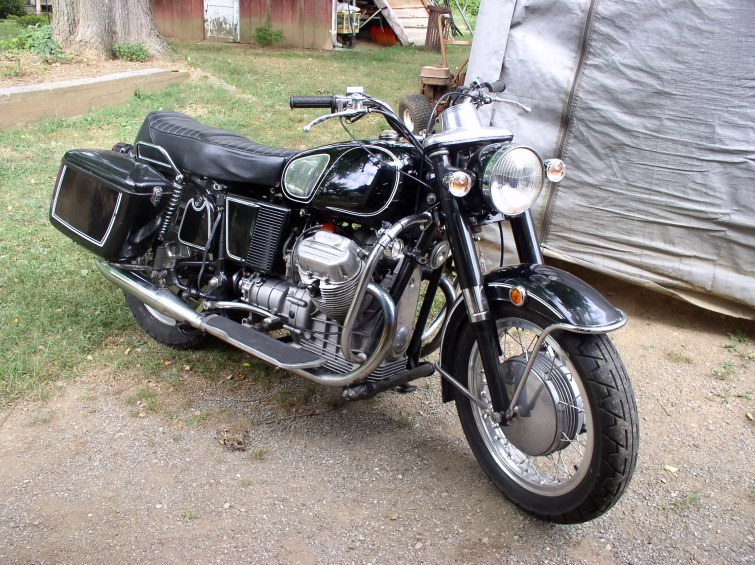 This was in for a clutch replacement and some transmission repairs. It's a sidecar "tug" most of the time.
'68 Harley-Davidson (Aermacchi) 250 SS Sprint
A nice, almost completely original example to start with, needing only some details sorted, maintenance bought up to date and a good cleaning. Looks and runs super now!
Before:
After: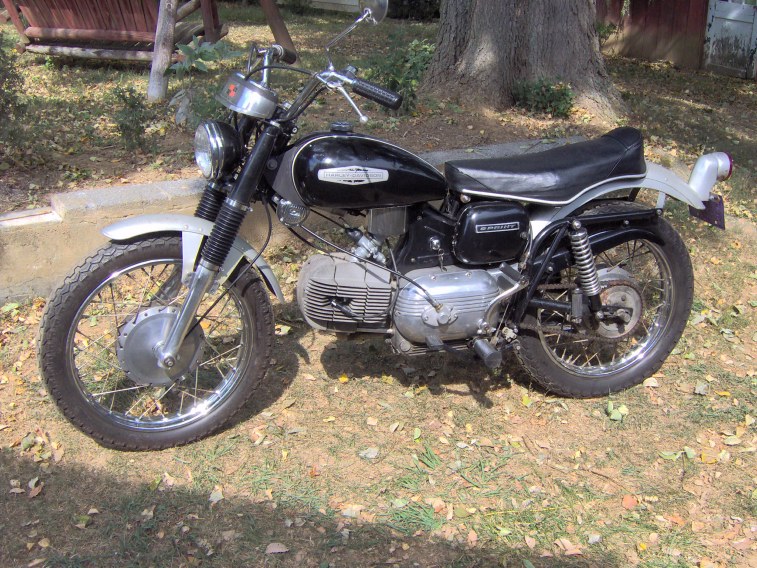 '75 Moto Guzzi I-Convert
Bought this on eBay and did a thorough "freshening" including new tires, battery, brake hoses, transmission fluid hoses, rebuilt the calipers and master cylinders, had the saddlebags repainted, lots of cleaning, a sprinkling of stainless hardware and much more. Turned out very nice.
Before:
After: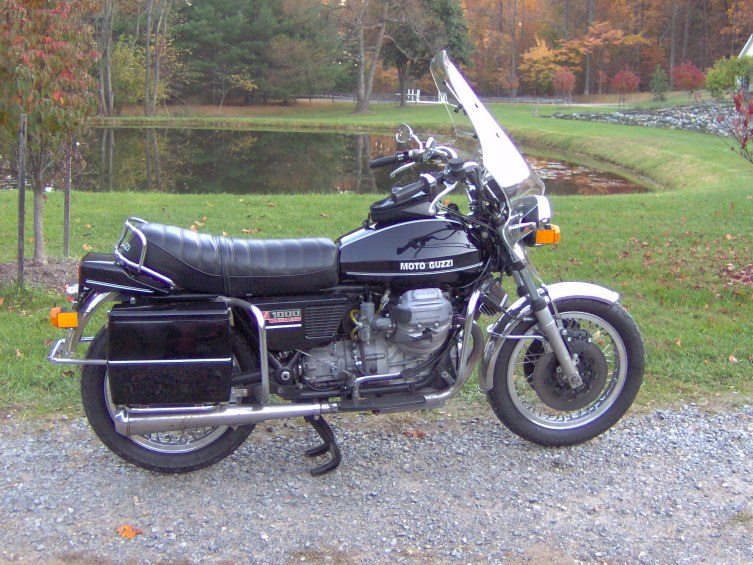 '74 Moto Guzzi Eldorado police
Installed a pair of new-old-stock Wixom saddlebags, installed the turn signals, replaced the front brake hoses, installed missing stand bumpers and a bunch of small miscellaneous stuff on this very nice Eldo. Looks ready to go out and chase some bad guys...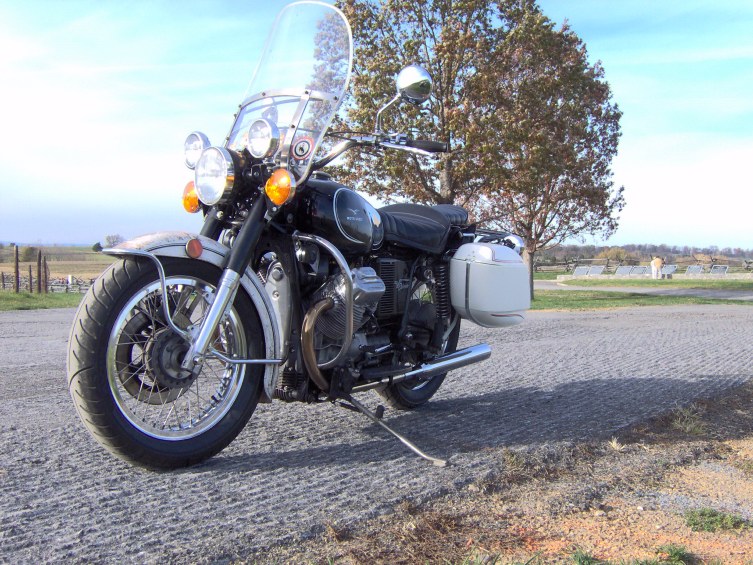 '73 Moto Guzzi 850 Eldorado
I rebuilt the engine of this bike and the owner did the rest. Turned out very nice! Back this time for a clutch (rivets sheared on one of the reused original plates), some minor sorting and adjustments. With the "big-bore" kits we installed in the engine, it runs very strong and the sound from the LaFranconi mufflers is intoxicating!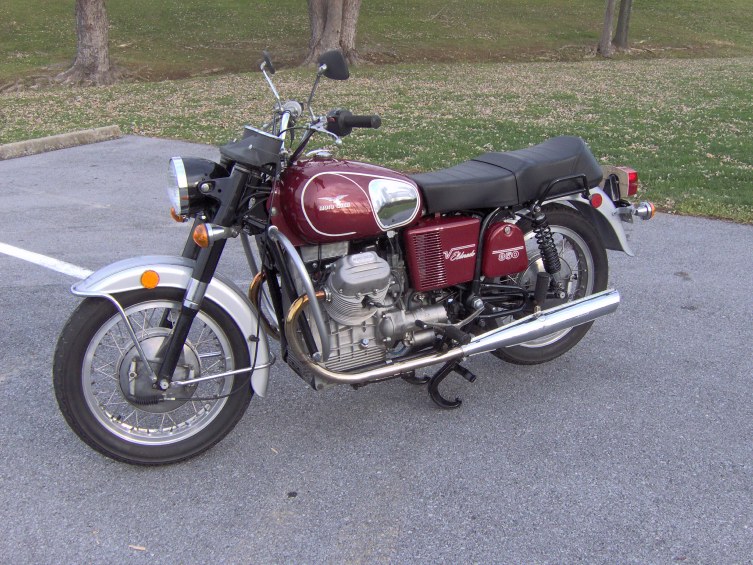 '74 Moto Guzzi V7 Sport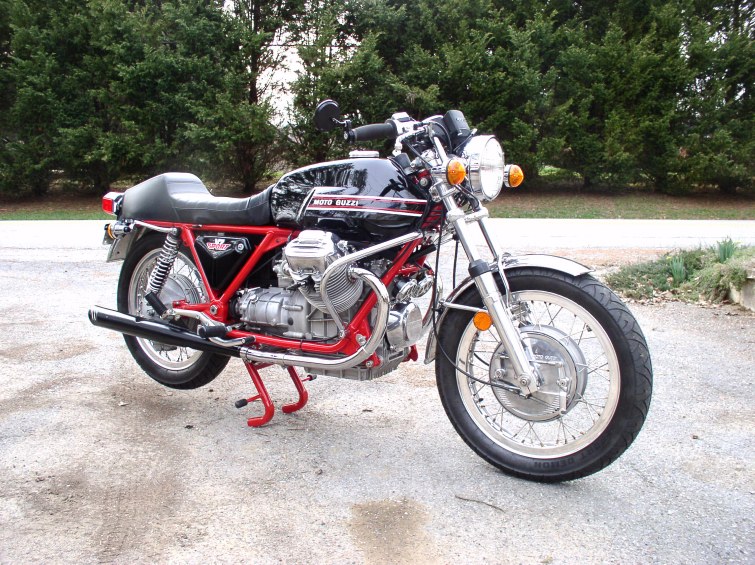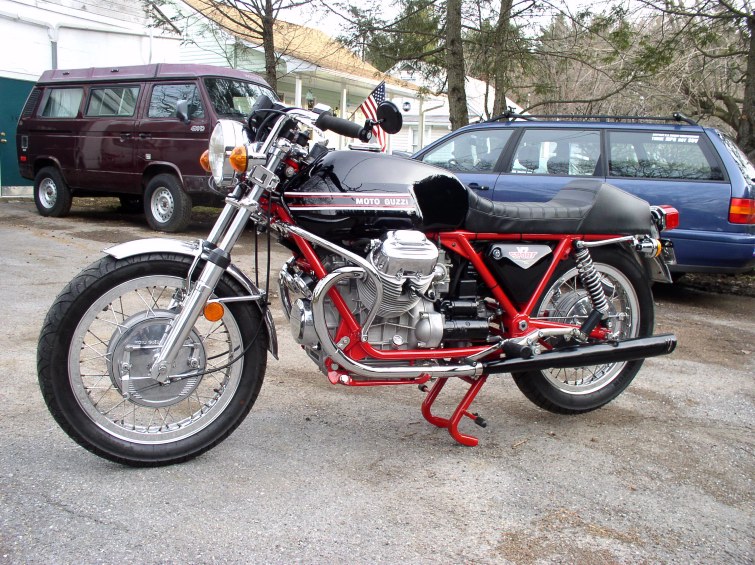 Comprehensive rebuild with some custom touches to suit the customer.
'76 BMW R90/6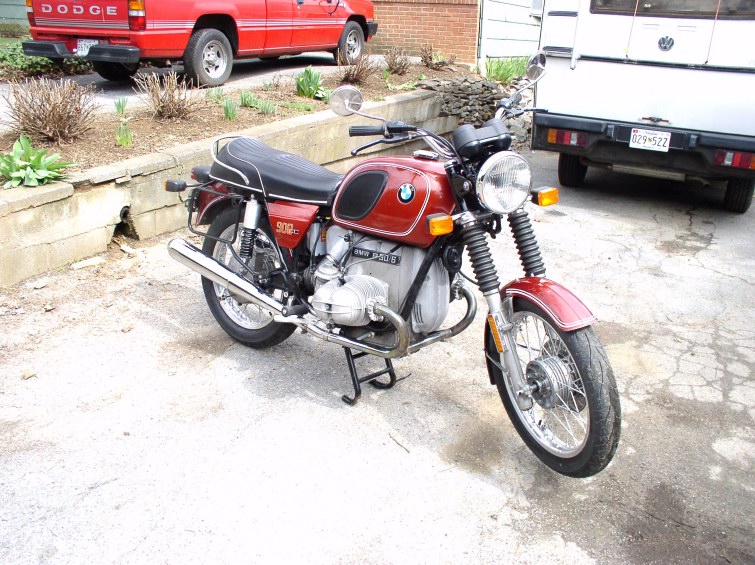 Turned out to be much more of a project than originally anticipated. The main wiring harness was melted together from the headlight back to the starter relay, so that was replaced with a new one. The piston rings were worn and one oil control ring was partially stuck in the piston. Valves were marginal and the guides were worn, so a full top-end rebuild was in order. Along the way we did a few nice upgrades such as an Omega 450 watt charging system. The ugly and cracked double bucket seat was replaced with a nice used earlier ('74) original.
'72 Moto Guzzi 850GT
Thoroughly "freshened" with new tires, battery, wiring harness, mufflers, turn signals, top-end rebuild and much more.
'73 Moto Guzzi 850 Eldorado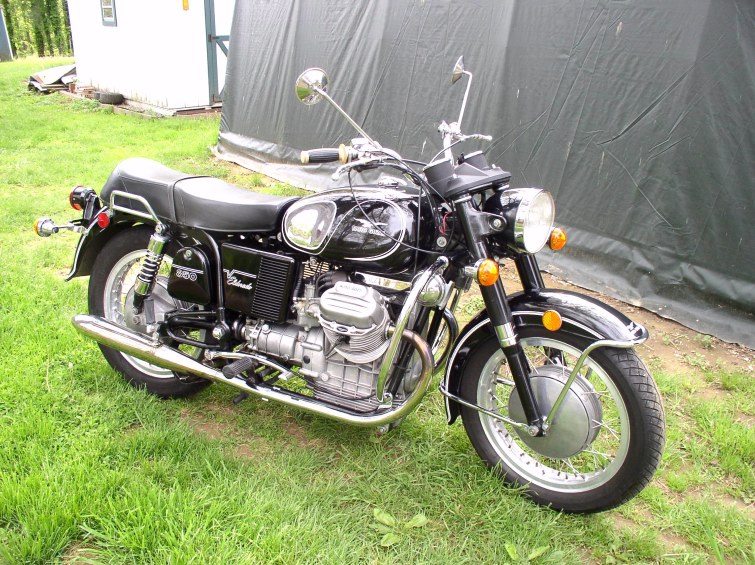 Replaced the original chrome-bore cylinders with new Gilardoni cylinder kits, plus a little tuning and maintenance. Really a very nice original Eldo.